Octo-Hut Welding Tent is a fully collapsible and portable welding tent.
Technology
Octo-Hut Technology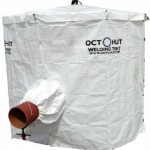 9'Diameter, 3.5'off top of pipe
750 lb. pound lifting eye
Rugged 10 Mil Polyester shell with UV coating
Adjustable ventilation points around shelter
Rain-Hood technology for ideal ventilation
Ultra-light Weight 33.5 pounds / 15.20 kg.
Telescopic wall stays for convenient height adjustment
Boom and Cleat Technology
(Attaches to pipe or structural steel)
Attaches to 4"- 24" pipe
Lightweight steel construction
Utilizes pins and lanyards for no lost hardware
Octo-Hut attaches to work creating a stable structure during windy conditions or when used on uneven ground or at height.
Easily attaches to pipeline with 1" wide 1000 lb. ratchet strap or chain lock vise grip (not included)
Detachable Panels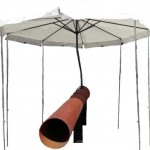 (4 included – 2 Left, 2 Right)
10 Mil polyethylene UV coated shell
Clip up quickly for easy attachment
Meets CPAI-84, NFPA 701, and CA Title 19 flame resistance requirements
Available in translucent white
Adjustable panels for pipeline from 24" through to 4" (pipeline diameter)




Purchase & Pricing
For Purchase Only – No Rentals
Octo-Hut $2,995.00 CAN Each
Prices do not include shipping or GST.
Request Purchase
Easy Set Up
More Information?